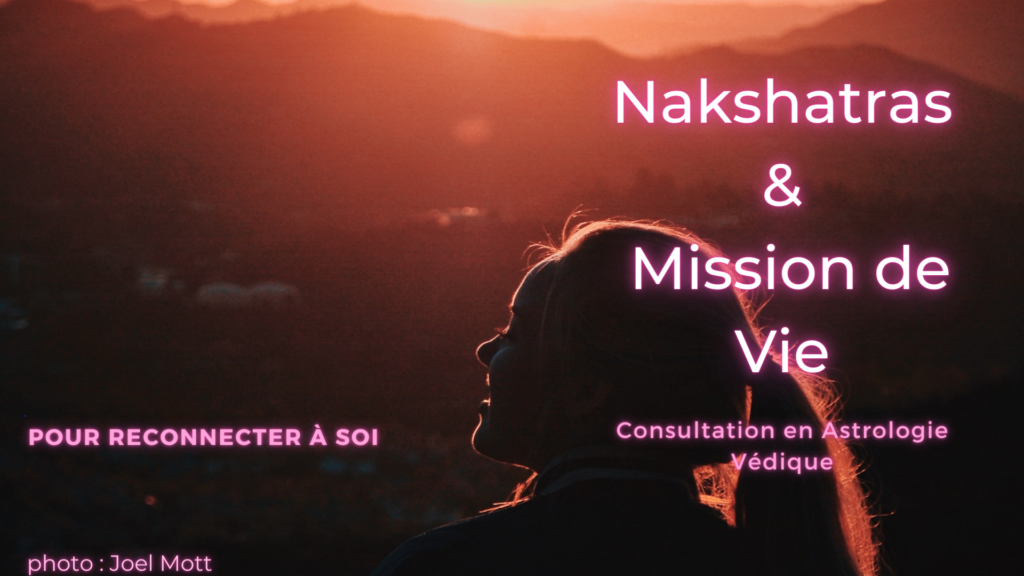 Une Consultation Nakshatras et Mission de Vie vous aide à en savoir plus sur vous-même, votre mission de vie, votre personnalité, vos points forts , vos challenges et ce que votre âme doit expérimenter dans cette vie pour évoluer.
Cette Consultation a pour but de vous apporter des éclairages sur votre vie, votre mission d'âme, et de répondre à des interrogations sur vous-même et de vous connaitre en profondeur grâce aux Nakshatras.
Les Nakshatras (constellations lunaires) sont des constellations ou des maisons lunaires . Chaque Nakshatra retranscrit des thèmes , des situations , des histoires particulières qui se déroulent dans nos vies . Les Nakshatras sont au nombre de 27 . Selon vos Nakshatras et vos planètes qui y sont associées , je pourrai voir quels thèmes et situations se manifestent dans votre vie. Vous verrez alors la beauté du cosmos se dérouler dans votre vie et vous en saurez plus sur ce que votre âme souhaite expérimenter.
Dans cette Consultation vous trouverez : l'analyse des Nakshatras de votre Ascendant et de vos planètes principales (constellations lunaires, dont votre signe lunaire) ainsi qu'une analyse de votre Mission de Vie .
Format audio mp3 et pdf récapitulatif avec conseils envoyés par mail.
A Nakshatras and Life Mission Consultation helps you understand yourself better and in a much deeper way .This consultation unravels your soul path and what you are here to experience in this life , so that you can have a better insight of your life purpose and personality, your assets and challenges . The goal here is to guide you on your soul's mission, and to help you answering questions about yourself and certain aspects of your life.
The beauty of the cosmos lies in the Nakshatras. They reveal the true you as well as the situations and themes in your life.
Nakshatras (lunar mansions) are constellations behind every zodiac sign. Each Nakshatra plays out a particular theme or situation in our lives. There are 27 Nakshatras . Depending on your personal planets and their Nakshatras, I will be able to see which themes and situations are manifesting in your life and I will also tell you more about yourself , your personality and your Life Purpose.
In this consultation you will find : the analysis of your nakshatras (Ascendant and planets, including your Moon nakshatra) and of your Soul's mission.
Mp3 audio format and pdf file with recap and advice will be sent to your e-mail.